owner The Pitch Pizza & Pub
Bryan Bevel
Online Masterminds X Bryan Bevel
Bryan believes in providing the very best guest experience, scratch dining and being able to do it consistently without fail.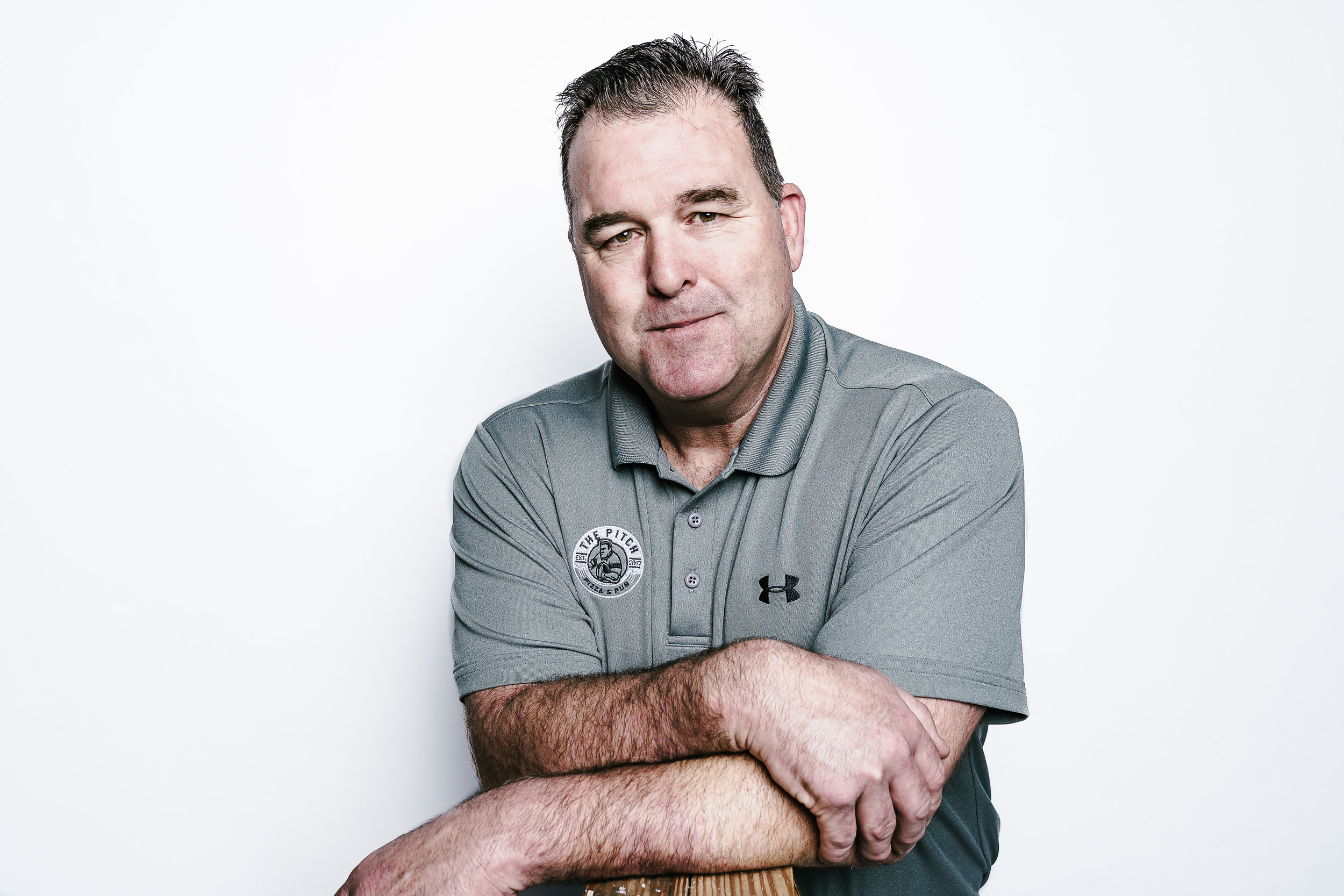 Tell me your name?
[slide-left]My name is Bryan Bevel.[/slide-left]
Where are you from?
Born in San Diego, CA, raised in Peace Valley, MO.
What is your background?
[slide-right]I spent most of my life working in heavy construction, but my love of craft beer and great comfort food led me to buying a restaurant and building one from scratch.[/slide-right]
What is your business about?:
[slide-left]Our business is about providing the very best guest experience and scratch dining and being able to do it consistently without fail.[/slide-left]
What service(s) or product(s) do you offer/manufacture?:
We produce nearly all our menu items in house and source as many local ingredients and additions to our menu as we can. We believe working inside the 417 area and especially on the East end of Sunshine will help create a food community that our patrons will appreciate and visit time and time again.
What's your title, besides "owner"?
Retired "hooker", besides owner, cook, janitor, publicist, bartender, "hooker" may be the one folks like the best. Having spent the last 28 years at that position on the pitch, people in the know tend like the "shock" factor of "did you know Bryan was a hooker"?
How many hours do you work a day on average?
11
Would you rather be liked or respected?:
[slide-right]Respected[/slide-right]
What makes you happy?:
Time with my wife to decompress and enjoy the things that our hard work has provided us.
How did you become interested in what you do?:
I started in kitchens when I was very young never knowing that I would actually end up owning a restaurant. My love of food, friends, great spirits and the joy of bringing these things to others has continued to draw me and my wife to follow our passions and the Pitch is providing us that.
What sacrifices have you had to make to be a successful entrepreneur?:
[slide-left]Time with my family. Being the first one in and the last one to leave bares a heavy price and there is no way to hide the fact that family can and will suffer in this line of work.[/slide-left]
In one word, characterize your life as an entrepreneur.:
Satisfying
What are you known for?:
Consistency
Do people come from all over to find you and your business/organization?:
[slide-right]We get lots of regional visitors and try to visit them all why they are in having an experience at our facility.[/slide-right]
What kind of culture exists in your organization? How did you establish this tone and why did you institute this particular type of culture?:
Mentoring, that is what we like to refer to as our culture. In our line of work there is no way to keep staff engaged if they are not learning or challenged continually. We never use the "F" word, that would be "fire", we want to make great decisions when we hire and then continue a mentoring culture to foster the strengths and talents of each individual employee.
What do you like most about your business?:
The opportunity to continue to grow as a person while educating staff and patrons about our great offerings and creating new ones.
What do you feel is the major difference between entrepreneurs and those who work for someone else?:
Putting it out there, some folks are not conditioned for risk and I think we have to be wired that way to succeed.
What's the most interesting thing about you that we wouldn't learn from your role or choice of business?:
[slide-left]I am the worlds biggest sucker when it comes to adopting dogs, we currently have 5.[/slide-left]
What made you want to go into business for yourself or become the leader of your organization?:
Timing and opportunity. I had a chance in the early 1990's to go from an hourly job to earning "half" of everything I could make and didn't hesitate to grab the chance.
What's different about your business than everyone else's?:
[slide-right]I am supposed to say "me" here, but that isn't true. My team, our approach and the passion we have to delivering the guest experience consistently is the bare minimum for us. A day doesn't go by that we are not trying to improve a dish, a process or a margin in order to be the very best we can individually and as an organization. A lot of people say those things we live and breath that ethos in order to continue the growth pace we are on.[/slide-right]
Excluding yours, what company, organization or business do you admire the most?:
Springfield Grocer Company. Family owned for over a 100 years and still growing and going strong. The leadership of that company just "gets it" and a lot can be learned from looking at their success and their failures. They are a great asset in the local community and may be one of the most under appreciated and least well know for their longevity.
What are you known for?:
[slide-left]Consistency, everyone knows I will be on station when needed. I have been working for the past 34 years full time and I have never called in for a shift or a day I was on the schedule.[/slide-left]
Name one thing that is compulsory in the office and one thing you ban in the office.:
Rugby practice, cigarettes.
What would you say are the top three skills needed to be a successful entrepreneur or leader?:
Patience, compassion and instincts.
Where do you see your business in the next year?:
Continuing to grow and garner more local brand awareness.
What do you do when you're not working?:
Rugby referring and traveling with my wife.
What is your favorite aspect of being an entrepreneur?:
Opportunity for continued personal growth and experiences.
Why are you located here? What do you love about it? Dislike about it?:
Perfect blend of traffic and built in customer base with the surrounding neighbor hoods.
What inspires you each day?:
Opportunity makes me inspired, each day offers me a new palate to perform from, variety keeps me on my toes.
Who has inspired you in your life and why?:
My father. Without the lessons, advice and input from my dad I would not be the man I am today. My father continues to be my inspiration for success on a daily basis and I can never fully repay that debt.
[slide-left]"Consistency, everyone knows I will be on station when needed. I have been working for the past 34 years full time and I have never called in for a shift or a day I was on the schedule."[/slide-left]